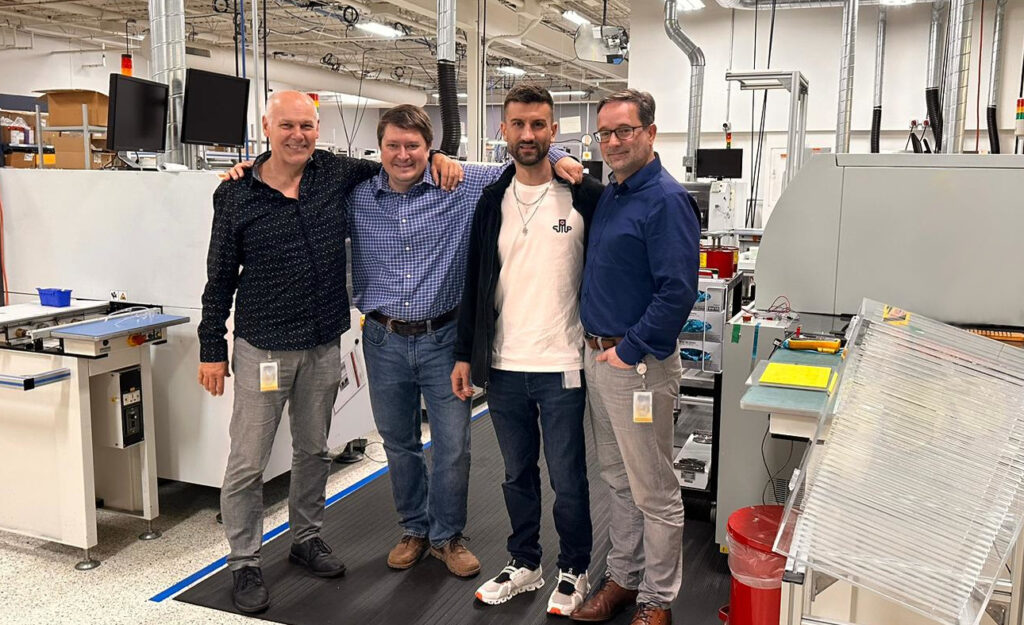 Saarland-based company becomes global market leader for EAP technology
With the purchase of over 100 patents and production from the USA, Saarbrücken-based mateligent GmbH is now the global market leader for electroactive polymers. This is a great opportunity for the region: in addition to further development of the promising technology, the aim is also to create new jobs.
Saarbrücken, June 6, 2023

Intelligent textiles that automatically measure vital parameters or provide feedback through vibration are strongly on the rise and find application in a wide range of fields from competitive sports to workwear, medicine to gaming. The special feature: The electronics in the textiles are not visible from the outside and the sensors are woven into the textiles. These are so-called electroactive polymers, polymers that change their shape when an electrical voltage is applied or act as highly flexible, stretchable sensors without any current at all through external deformation. Intelligent textiles are just one of the many areas of application for this innovative technology. And it is precisely with this technology that the world will be supplied from Saarbrücken in the future. Because with the acquisition of over 200 patents and the entire associated production, the Saarbrücken-based company mateligent GmbH and its manufacturing subsidiary mateligent iDEAS GmbH will become the global market leader.
"A unique opportunity was offered to us and we grabbed it. Without our roots at Saarland University and the years of preliminary work and networking of Prof. Stefan Seelecke, this success would not have been possible ", says managing partner Jens Preetz happily. "Once again it becomes clear: Saarland does not have to hide and plays in the world's top."
The EAP technology or in particular the so-called dielectric elastomers are a technology platform that opens up innovation in numerous application areas and different markets: Installation space, weight and energy consumption are enormously low. This is because in an EAP system, energy is stored in the electrodes and power is only needed when a change of state is required – unlike conventional systems, which often require permanent power supply. This makes EAP systems extremely energy-efficient – while the sensors or drives are only tenths of a millimeter thick.
Initially, the acquired production of EAP sensors will remain in a new subsidiary in the USA. Parallel to this, planning is already beginning for a production facility for the mass production of EAP actuators and sensors in Saarland. "In the long term, we plan to locate a complete production facility in Saarland," explains Prof. Paul Motzki, co-founder and shareholder of mateligent GmbH. "This will allow us to actively support structural change and create numerous new jobs."
Minister of Economic Affairs Jürgen Barke is pleased: "This settlement would be an important success for Saarland and also a great gain for the transformation process. Especially since these patents meet an excellent breeding ground with the basic materials research at Saarland University and the application-oriented research in the field of smart materials systems at ZeMA. Thus, a hotspot in the field of electroactive polymers can emerge in Saarland – in this respect, a fruitful further development can be expected here, which I am happy to accompany."
University President Manfred Schmitt adds: "Thanks to the excellent research activities of the university's engineers in the field of systems engineering, it has been possible, using the example of electroactive polymers, to bring an innovative cutting-edge technology from basic research to application once again." He further emphasizes: "Through the current spin-offs, there is now hope that new jobs will also be created in the Saarland in the future in this innovative field of technology. This is a living technology transfer from the university to the regional economy, with which the university once again makes an important contribution to the success of structural change in the Saarland. In addition, the current successes in DeepTech start-ups once again underpin the special future opportunities of our federal state."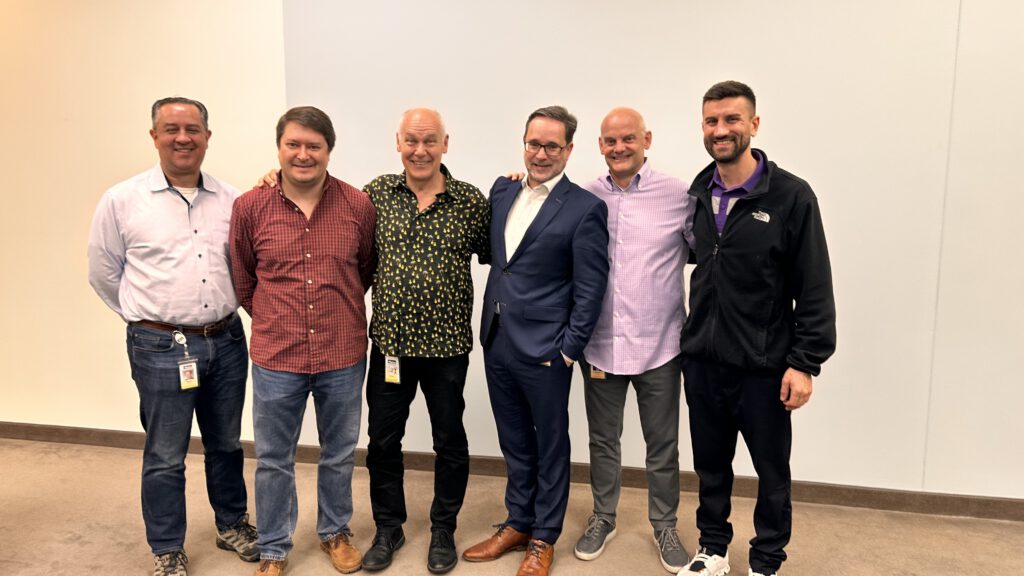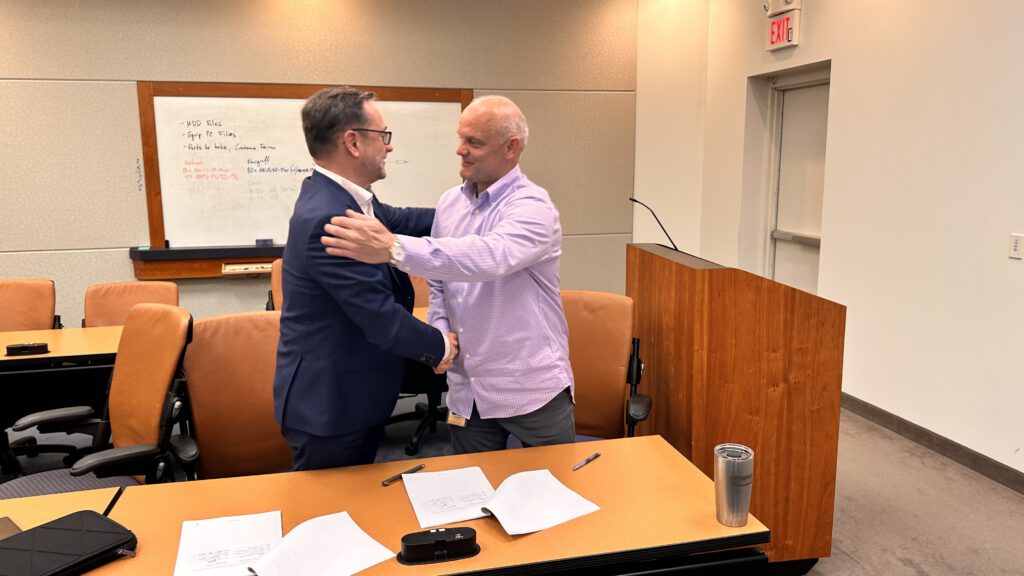 About mateligent GmbH

mateligent GmbH was founded in 2021 in Saarbrücken by Jens Preetz, Prof. Dr.-Ing. Paul Motzki and Prof. Dr.-Ing. Stefan Seelecke and grew out of research conducted by the Chair of Intelligent Material Systems (iMSL) at Saarland University and the Smart Material Systems department at ZeMA – Center for Mechatronics and Automation Technology gGmbH.
Since 2022, the two subsidiaries mateligent nititec GmbH and mateligent iDEAS GmbH exist around the three additional shareholders Yannik Goergen, Andreas Meyer and Julian Neu. iDEAS stands for intelligent dielectric elastomer actuators and sensors. – the matigent iDEAS GmbH.
Electroactive polymers (EAP)
is the generic term for all polymers that can be electrically activated.
The most common form is "dielectric elastomers", or DEs for short.
The principle of DE actuators
or DE sensors:
A wafer-thin, extremely elastic
silicone film only 50 micrometers thick is bonded with electrodes on both sides
printed with conductive, stretchable ink. The result is a capacitor.
on this elastic capacitor, it changes its capacitance due to the
the capacitance due to the deformation. When this change in capacitance is measured, the result is
a high-precision pressure or displacement sensor.
And how does it become an actuator?
If you apply a voltage to the electrodes of the film capacitor, you want to
the electrodes towards each other. The
silicone between them is incompressible, however, so the foil deforms. This
deformation can be transformed by special mechanical components into large movements.
of the film. Highly dynamic membranes are created, which can be used as pumps or loudspeakers.
loudspeakers, or linear systems are created from which stroke actuators
for valves, vibration conveyors and much more. Since the
production is a flexible printing process, the shapes are virtually
arbitrary.
In addition, an actuator can also simultaneously
function as a sensor, so DEs belong to the so-called "intelligent
materials."